Ethernia is a town in Astryl's Vale and is written in purple. Inside there is the Ethernia Castle, Task Board, Plaza, Market, Town Hall, Barracks, Armory and Arena. The Barracks are currently not available.
Ethernia Castle
Edit
Coming Soon
Task Board
Edit
Coming Soon
In the Plaza, there is a Healer, Priestess Rosina and a Puffadore Pet Shop owned by Mr. Rolando. Priestess Rosina charges 1 Gold Per Health.
Mr. Rolando's Baby Puffadores cost from 50-100 City Badges, and Eggs cost 250,000-750,000 Gold. 
The Market sells: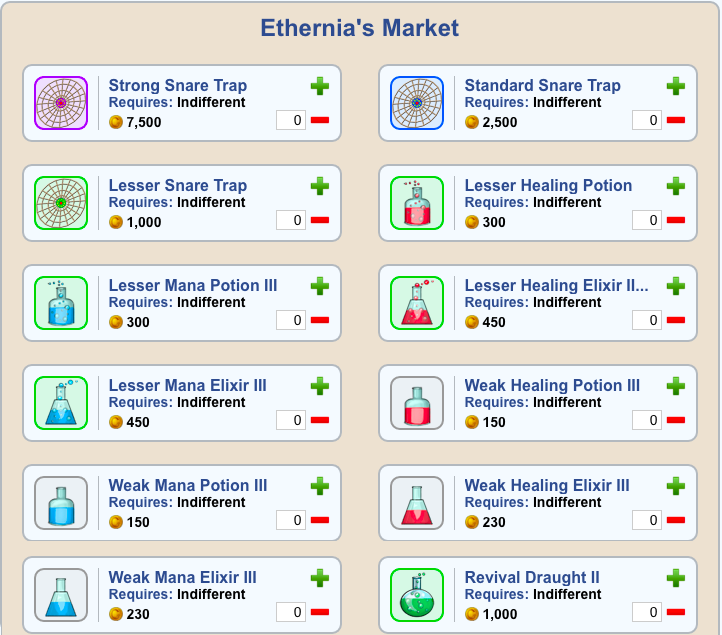 Town Hall
Edit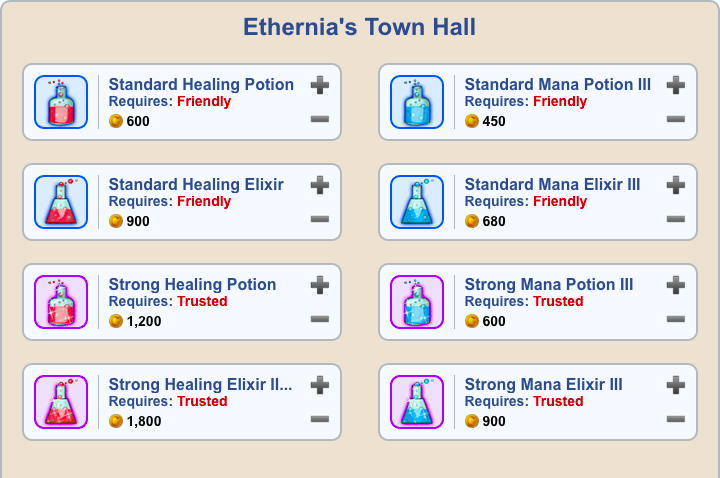 The Armory's currency are City Badges

Ethernia's Barracks are currently unimplemented. Clicking on the Barracks icon on the Ethernia Town Map causes a pop-up message to briefly appear, and then quickly redirects to the world map.
The Arena currently has two levels brackets, 0-25, 25-50. 
| | Level 0-25 | Level 25-50 |
| --- | --- | --- |
| First Challenger | Fire Eyes | Plaguebringer |
| Second Challenger | Stonewing | Mamosa |
| Third Challenger | Kimera and Katalyst | Ran'Tiki |
| Fourth Challenger | Oogar | Team Sprocket |
| Fifth Challenger | Malgron the Destroyer | Harpy Sisters |
All this information is from Luga's Arena Step by Step Guide , I give him all the credit.