Sanctuary of Saerielle is a town in the Umbra Forest and is written in purple. Inside there is a Quest Board, Plaza, Market, Town Hall, Barracks, and Armory.
Quest Board
Edit
Story Line Quests
Edit
Faerina's Shrine: Finding Saerielle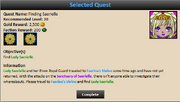 Daily Quests
Edit
Level 25, Faerina's Shrine: Myconid Hunting
Level 30, Enigmatic Grotto: A Preemptive Strike
Level 35, Garden of the Magnates: Noble Deeds
Level 40, Forgotten Tomb: Clearing the Tomb
Level 45, Aryth's Spire: Magical Resupply
Sylesti Plaza
Edit
In the Sylesti Plaza, there is a Healer, Kayani the Herbalist, and a Trainer, Jaxie Juniper. Kayani will charges 1 Gold Per Health.
Jaxie will let the player to expand the party limit to 3 pets for 50,000 Gold and will expand mission limit. For five missions, 25,000 Gold. For 6 missions, 50,000 Gold. 
The Market sells: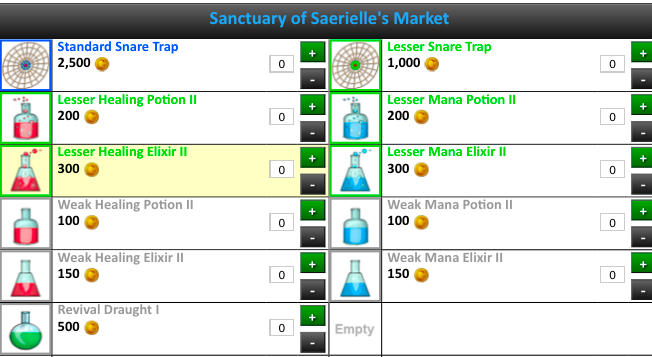 Town Hall
Edit
The Town Hall sells: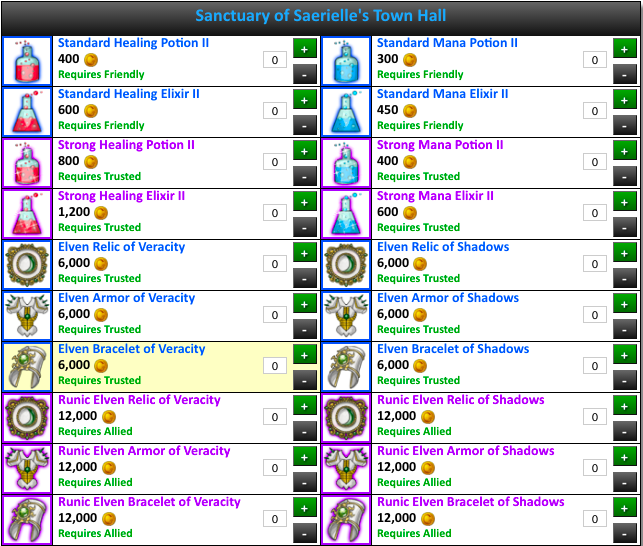 The Armory currency are City Badges. It sells:

Easy: 1 Hour    Medium: 2 Hours   Hard: 6 Hours   Very Hard: 12 Hours
| | Easy (Lv 25) | Medium (Lv 35) | Hard (Lv 45) | Very Hard (Lv 50) |
| --- | --- | --- | --- | --- |
| Health | Tasting Myconids | Patrolling the Shrine | Patrolling the Grotto | Patroling the Garden |
| Strength | Firewood | Five, Six, Pick up Sticks | Clearing a Path | Gravestones |
| Intelligence | Sylesti Librarian | Restoration | Ancient Tomes | Lost Lore |
| Dexerity | A Forest Lookout | Relocating | Troll Traps | Resoring Order |
| Agility | Delivering Mail | Cobwebs | Cave in Rescue | Change of Plans |